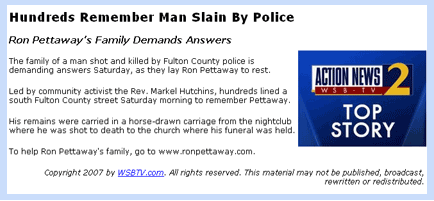 The
Ron Pettaway
website reports, on April 21st, hundreds gathered at Atlanta's Frozen Palace Bar, where an unarmed Black man, Ron Pettaway, was shot in the back of the head by police on April 15. The march began at the location of Pettaway's murder and concluded at the church where his funeral was held. His brother Roy was also shot in the back in the same police attack. Ron Pettaway was among 14 people killed by Atlanta area police in the past 15 months, including 92 year-old
Kathryn Johnston
, who was shot to death in a botched drug raid in November 2006.
The
Atlanta Journal Constitution
, reports that the organizer of the march, Rev. Markel Hutchins, said,
"The family of Ron Pettaway has made a determination that they are the last family to go through this. We are going to call for a major march in the city of Atlanta. We are going to shut this city down to make them stop killing our young men."
A number of Afrosphere blogs
Black Accused Support Groups (BASG)
,
Ron Pettaway Justice March Blog
, and
Francis L. Holland Blog
- are diligently working to raise awareness of these constant miscarriages of justice in the Black communities in around the United States.
plezWorld
joins these blogs in crying out for a change to the policy of laying death, destruction, and misery at the doorstep of our Black communities. As Martin Luther King, Jr. said, "
Injustice anywhere is a threat to justice everywhere
," and these words echo no louder than in this case of the senseless murder of Ron Pettaway.
We must continue to bring these issues to the forefront, demand equal treatment from the police, and demand accountability for those officers who believe that they can continue to kill our people with impunity. I implore you to contact the Fulton County District Attorney and demand justice in the senseless murder of Ron Pettaway.